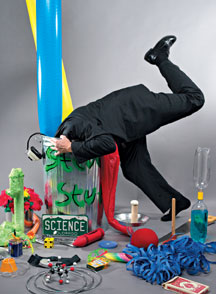 This activity, from the Steve Spangler Science website, is obviously designed for an elementary level science class. Students, in groups, use candy to create a facsimile of a neuron.
I know that many high school psychology teachers do similar activities having students create neurons or brains from candy, clay, pasta, jello, paper, etc. If you do such an activity, please post it in the comments section or email it to me (
Kent Korek - kkorek@germantown.k12.wi.us
) and I will be happy to post it to this blog.
The activity's description can be found at
http://www.stevespanglerscience.com/experiment/candy-neuron
.
Brainsrule.com has a variation of the activity at
http://www.brainsrule.com/pdf/neuron_cookie.pdf
Neuroscience for Kids shows a number of different materials at
http://faculty.washington.edu/chudler/chmodel.html