This morning I read Kristin's
post on Michael Mendillo's trashing of high school courses
- of course, only after I spent time using the Hubble Space Telescope -- and just sighed when I followed her link to read the original column and the comments there. It seems so fashionable to bash teaching of all kinds these days, to look for ways to get rid of all these "bad" teachers and replace them with all the "good" ones that are apparently just standing in lines all over the country, ready to swoop in. Or inevitably someone will offer another solution, invoking an entity like
Khan Academy
and say heck, we just need to have one guy making videos about everything and that will solve the whole problem (something that former Harvard president Larry Summers
suggested in this morning's New York Times
).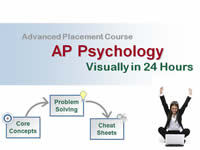 So it was with that jaundiced perspective that I read a press release from the Rapid Learning Center, an organization I was unaware of until my AP Psychology Google News alert popped up in my inbox. The release highlighted RLC's "expansion into the behavioral sciences with the introduction of
a new course for AP Psychology
." What is this new course, you ask? Why it's the latest in their series of courses that promise that you can "teach yourself the entire course in 24 hours."
Yes, people, AP Psych in 24 hours. Here's what they offer for $199:
24 Rich-Media Tutorials (Chapter Movies)
Core concept tutorials with on-screen visualization and expert narration via our signature Rapid Learning System.

24 Problem-Solving Quizzes (Interactive Drills)
Feedback-based problems with a scoring system to track performance and complete solution to reivew concepts.

24 Super-Review Cheat Sheets (PDF Printables)
One cheat sheet per chapter and all key concepts in an at-a-glance single sheet, both printable and laminable, ideal for exam prep and quick review.
24 Printable eBooks
One eBook per chapter, a print version of the tutorial video for easy-to-read
24 MP3 AudioBooks
One AudioBook per chapter for learning-on-the-go on any MP3 player or smart phone.
What you can see online for free is their
AP Course Guidebook
(PDF) and the
AP Psychology tutorial
, which appears to be a narrated PowerPoint for the whole course. I'm hardly an objective party, but that tutorial is sad. There may be a future enterprise that makes me realize that my days in a classroom are numbered because some product does it better than I do, but this isn't it. I found the Guidebook to be startlingly similar to parts of the Myers Psychology textbook, but I didn't see any sort of link to any other publishing company in the About page on the RLC site.
The tutorial just seems very boring - a monotonous voice reading mediocre text alongside minimal graphics. I didn't view all of the slides, but the ones I did see were painful. Here are some of the things I learned from them:
To make a mnemonic, write down a list of words, take the first letter and create a sentence. So "to remember the various subfields in psychology - Biological Developmental Cognitive Personality Social - [use the mnemonic] But Do Cats Play Soccer."
"If you cram too much information and make yourself nervous the night before the exam, you might get into a 'mental indigestion.'"
When taking the test, "apply techniques to eliminate incorrect answers."
At best it's the online version of a mediocre AP review book, but at up to $199 it's far more expensive. I'd be interested to know if anyone else has ever heard of this company (I hadn't until today) and what your thoughts are if you check out the guidebook and tutorial. As for me, I'm heading back to the telescope to address dark-energy issues if you'd like to join me. I'm hoping not to develop mental indigestion.
--posted by Steve