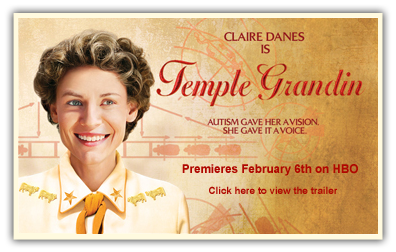 Since reading Oliver Sacks'
An Anthropologist on Mars
I have been fascinated by Temple Grandin. As many of you know Temple is a woman with autism who has had enormous success in her career as a professor at Colorado State and as one of the foremost authorities on the design on livestock facilities. Her rare ability to share the way her brain works -- thinking in pictures, she calls it -- has always been compelling to me and I have used her writings in every psychology class I've taught.
Among her works:
So I was thrilled today to see that the HBO film "Temple Grandin" debuts Saturday, February 6 at 8 pm. You may be surprised to see that Claire Danes stars as Temple but after viewing the trailers I was convinced that except for the physical differences (the dainty Danes playing the broad-shouldered Grandin) that she did a good job. And I got all
verklempt
seeing those pictures in the trailers that only lived in my head -- Danes as Grandin down on all fours in a livestock pen, seeing the world from a cow's point of view, for example.
For more info on Temple Grandin check out these links:
Check out the trailer and tease below and post your thoughts in the comments. Does she pull it off? Are you as excited as I am?